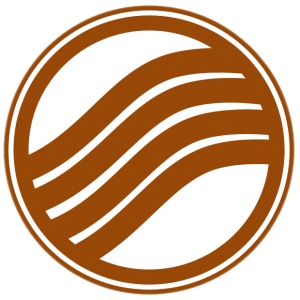 SlotCar.club
A resource for 1/32 Hardbody (Scalextric) Racers to promote closer collaboration of independent Slot Car Clubs based in the UK.
Goals
Provide a central hub for all Clubs within the UK, offering equal space to present community information and help towards self-promotion.

Identify a number of 'common technical rulesets' and provide a directory against all associated Clubs.

Promote closer collaboration of Clubs, allowing easier opportunities for drivers to visit and compete at a wider and varied range of tracks across the whole country.
Seconary Aims
Establish a shared nomenclature for technical and sporting regulations.

Develop a common regulations framework.

Define standardised race formats.
How will this be achieved?
• Creating a Club Portal
A large proportion of UK clubs have zero web presence or is limited to forums or other social media platforms, this will deliver clubs a central hub to present all of a Club's relevant information and allow them to promote themselves easily for free.
All Clubs will receive the same dedicated, advertisement free page layout, placing each on equal footing, delivering matching, but all pertinent information, including;
Location

Track Details (Surface, Number of Lanes, Rail Type etc)

Web and Social Media Links

Race Calendar (iCAL, PDF Hosted or Linked)

Ruleset (PDF Hosted or Linked)

Limited Image Gallery

List of applicable Common Rulesets with Variances (See Below)
Sign up will be completely voluntary and the strength of a clubs page will rely on the information they themselves provide.
• Identify Common Rulesets
All UK clubs currently all have their own varied and diverse sets of Rules, Classes and Championships. This is fantastic as it shows the current strength and range of the hobby, but makes collaboration between clubs and visiting drivers difficult.
Firstly, the current and previous "National" level series and one off events held at numerous Clubs over the last few of years will be evaluated, these will initially include;
*Click the links to view the full 'Technial Regulations'
However, we can guarantee, that thanks to the great work of various manufacturers, there will be at least a handful of other single make classes and championships across Clubs that will be very similar. So, a secondary further and wider ranging evaluation of all associated clubs current classes will be undertaken.
• Provide Common Ruleset Directory
Once the initial list of Common Rulesets are agreed upon, it will then be asked that associated clubs look over their own Classes or Championships and assign one of the following designations (the three "Rs") from a simple Traffic Light system;
Ready:


A car which meets these Regulations will be fully eligible to enter the event.
Recommended:


The car meeting these Regulations would be eligable, however may underperform and would suggest minor modifications to be competitive.
Restrictions:
A car will need to be modified from the Regulations to meet the requirements, once completed it would be eligable to to compete.

To be classified as either "Recommended" or "Restrictions" the modifcations will be strictly limited to a small number inexepensive changes, for example, only the Tyre Compound and Gear Ratios. A larger number of changes or in combinations of these, such as Chassis, Mount and Motor swaps would not be allowed. For example;
• "National GT3" - Any car will be "Ready" to run and fully eligible without modifcation to compete in our "Open GT" Class.
• "Slot It Group C" - It is "Recommended" the fItting of Ultragrip Tyes and a change to 10/26 Ratio for a car to be competive in our "80s Sports Car" Class.
• "NSR British GP" - The car must modified to meet our "Restrictions"; run on 'Super' compound tyres with standard 10/27 gear ratio in our "Classic Formula 1" Championship.
These can then be collated to provide a comprehensive 'Common Ruleset Directory' across all associated Clubs. This will allow a competitor with a small collection of "Nationally" eligible cars to quickly and easily identify, a newer and larger range of Clubs and Tracks they can visit and race competitively, opening up some fun, new and exciting racing experiences. These will also be listed on the Clubs own page for racers easy reference.
Take the Club Survey
Clubs can now provide information on their own 'Race Series' and how they align to the 'Common Rulesets' that have already been identified by taking clicking the button below and taking part in the SlotCar.club Survey.
A Google Account is required to complete, however this does have the advantage of saving progress as it is compelted, plus allowing later return to update any responses.
What else can Clubs do to help?
The website is currently being built, and will be an ongoing process of design and development. For now, and with the current circumstances, it is a perfect opportunity for Clubs to start evaluating which of the listed series sit within their current rulesets, or look at making minor changes to bring them inline as possible.
We welcome any feedback, including on suggestions on Common Rulesets, the design and layout of the site and also any further information you believe could be provided to the Slot Racing community via the Club's pages or other articles.
Also please Like our Facebook page below to receive the latest updates on our progress and please feel free to message us with your feedback;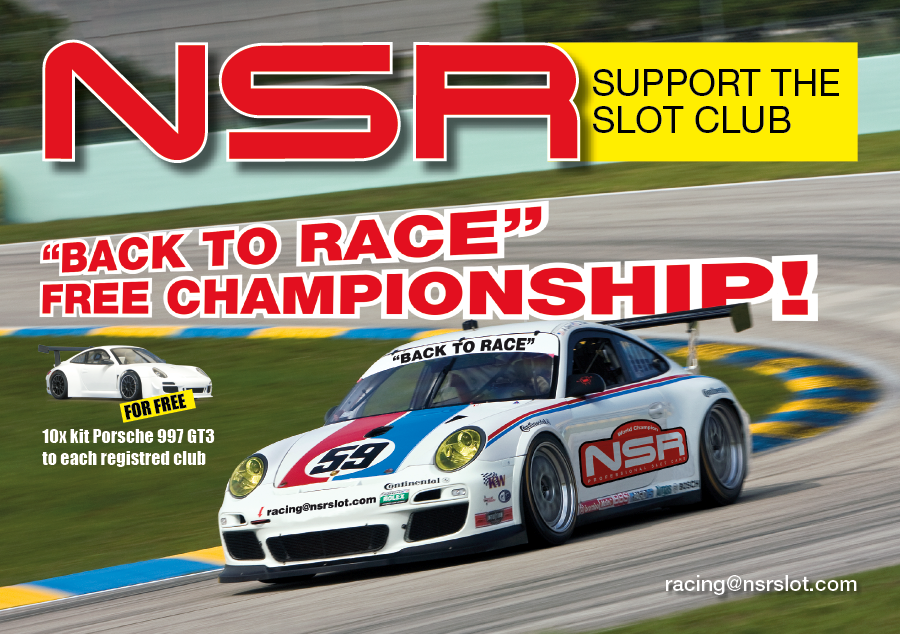 To help clubs get back on their feet and promote healthly attendance club attendance post lockdowns, NSR generously donated 10 Porsche 997 White Kits to any club willing to host Championship series of one-make and car races.
With 10 clubs in the UK receiving the rewards, it is the perfect oppurtinuty for a standardised Technical Ruleset which would allow 100+ racers to compete with identical cars at multiple new tracks and clubs taking part in the NSR promotion.
Our draft 'common' Technical Regulations for this series can be downloaded below;
While based on NSR's own GT3 standards, these regulations have been designed to keep the cars as close to "Box-Standard" as possible, but with some limited ability to alter setup.